---
The Skort is back and even better than before. We kept the spin-worthy skirt and flat waistband but gave it 2 new updates. The shorts now feature a slightly longer inseam for deeper phone pockets and better booty coverage. The waistband lays smooth as we removed the back pocket to decrease bulk.
Performance Level:
Features + Fit

• High-waisted
• Circle skirt
• Pockets on both sides of inner booty shorts
• Wide waistband that does not pinch
• Inner Short Inseam:XS-XL=2.5" (6 cm); 1X-3X=4" (10 cm)
• Performance level: High impact
Model Info

Katie is wearing size S
Height: 5'6" • Bust: 34 • Bra: 34A • Waist:26" • Hips: 37"
Fabric + Care

ButterSmooth Brushed is similar to our ButterSoft Brushed fabrication used in our most popular leggings but with a smoother feel and a slightly stretchier fit.

• Double brushed on both sides for a super soft, cotton-like, luxurious feel
• Sweat-wicking
• Lightweight and breathable
• 4-way stretch
• 77% polyester, 23% spandex, 180 GSM

After your workout: Machine wash on a gentle cycle. Then tumble dry low, or hang to dry.
Not for Tall Girls
I love workout skorts and they're what I primarily run and lift in. However, this one was just way too short. I was hoping for a mid-thigh length but this was comparable to booty shorts and I would not have felt comfortable wearing it in public even with the shorts underneath. However, if it was a couple of inches longer, I would have loved it. I am 5' 9.5" and curvy it didn't even cover fully in the back and was incredibly short in the front too.
I bought the turquoise and the color was stunning. The material was amazing quality and I absolutely love the circle skirt pattern. I would definItely buy this in several colors if it was a couple of inches longer. Also the waistband did fit true to size.
A suggestion: it would be super cool if you could keep the circle skirt pattern but add maybe an inch of fabric in length just in the back for us curvier girls. Sort of a hi-low pattern, since I've found skirts tend to be shorter in the back since I am curvy. If that makes sense?
Overall Fit:
True to Size
MY FAVORITE!!!
I love the improvements to the twirl skort. The longer length of the undershorts make them much sportier and the removal of the back pocket gives a much more seamless look. I think Popflex has nailed the active wear skort.
See it in motion on my Youtube review.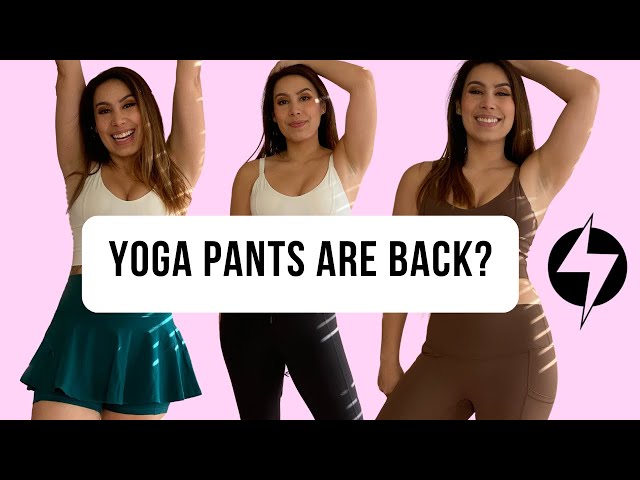 Overall Fit:
True to Size
BEAUTIFUL but not quite for me
Honestly I've been looking at this skort for SO LONG and I finally bought it! When I tried it on I wasn't a fan of how it looked on my body type, I'm a shorter gal with wider hips and a big butt. The back of the skirt barely covered my butt just standing, and it didn't cover it whenever I moved. I would love to see a version that's a little longer and the skirt part starts up higher (starting a at or around belly button rather than around the hips) to help flatter those of us with wider hips. I still would give this a high rating because I love the skort still and it looked great on my roommate who has a body shape more fitted for it! Great quality, great colors, and I look forward to trying out some other Popflex clothing in the future! :)
Overall Fit:
True to Size
Cute and Comfy but not for running
First of all is it too short? As someone who is 5'5 I thought it was longer then Nike Shorts and it looked modest to me. Is it worth the money? Material and quality is really really good. Comfy enough to wear all day and looks nice enough to run errands in. The negative, the shorts underneath the skirt tend to ride up and bunch uncomfortably when running.
Overall Fit:
True to Size
Gorgeous Color & Fit
This was super cute, feminine... even though it "looks" short, it doesn't feel too short (I think the shorts help with that)
I always buy black, so I went for a color and the color is GORGEOUS. So deep and beautiful.
It covers my butt and thighs where I am a bit insecure and where I need it and feels nice and tight but not tight? Like... the good "sucking you in" tight (y'all know what I mean right? LOL)